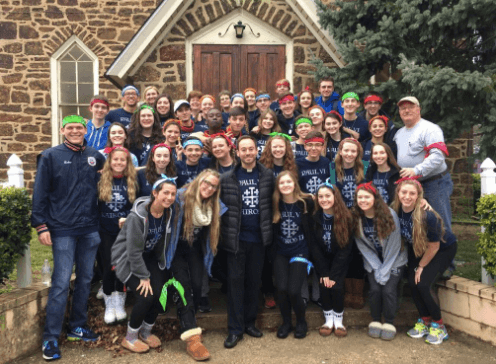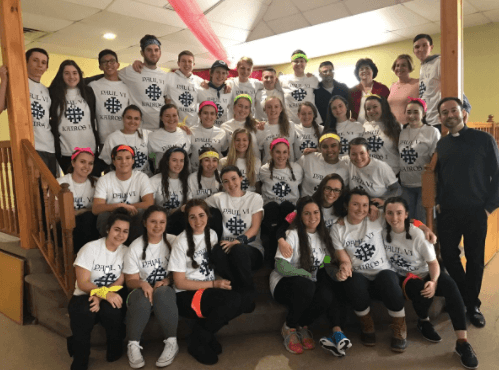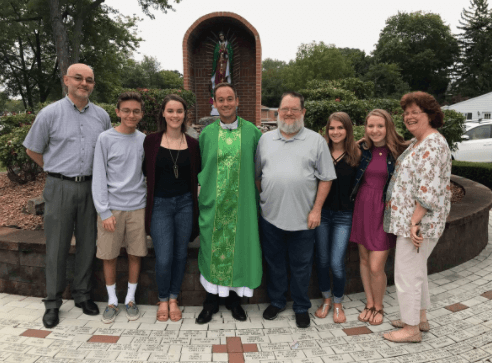 John Rossi — a Catholic priest from New Jersey — equates his role to that of a youth pastor more than anything else. Four years ago, the young priest was commissioned by his bishop to serve as director of Catholic identity at Paul VI High School in Camden County, New Jersey. It's there that he teaches religion and interacts with students and faculty to grow their Catholic Christian faith. But that's just part of what Father Rossi does at this private high school of 1,100 students.
In reaching youth, he aims to meet them where they're at by constantly staying in tune with popular culture. "I go running with the students, listen to their music, watch their TV shows, and stay connected with them through social media. I also share inspirational quotes on Twitter, which has led to a lot of the students following my posts."
Through these efforts, Father Rossi has been accepted among the students as a trusted source, friend, and mentor. Each morning, he leads the students in prayer, followed by a brief message on a significant topic that will help encourage their faith. During monthly school gatherings, Father Rossi practices many of the same teaching methods used by Pastor Rick Warren at Saddleback Church. To keep youth-focused, he uses fill-in message notes, which has led to many students referring to the sermon throughout the week.
Father Rossi first turned to Pastor Rick for guidance several years ago, when he attended Saddleback Church with his cousin. "As a priest, I preach every day at mass or on the weekends to a larger congregation," he says, "but I needed someone to preach to me. Rick has become my spiritual guru, helping me in my own spirituality. I love how he's down to earth and talks about God, who became one of us. He really relates the Scriptures to my own life, so I've shared that message with my brothers and sisters in the Catholic church — especially with the youth."
Sharing Pastor Rick's teaching methods doesn't end there, however. Father Rossi has also implemented the five purposes from the Purpose Driven Church (PDC)—something he considers a movement of the Holy Spirit that crosses denominations, cultures, and generations.
"I'd like to see it explode in the Catholic church," he says, "and really bring the purposes to the forefront by bringing us closer as one family. We're all on the same team. God chose me to receive this message and to share it with others."
Introducing these new principles hasn't come without challenges, though. Leaders in the Catholic church often lean on tradition and structure handed down from those before them. The young priest often faces pushback and opposition when he proposes new ideas to replace traditional practices.
Committed to winning souls, Pastor Rossi says he believes God called him to fulfill this role, and has no plans on slowing down on the five purposes. For missions, the high school created a community service program. For spiritual maturity, they started a retreat program in early 2017. Not only was it a success, but it was a reawakening for many of the students who found a real, personal relationship with Jesus.
Growing up in the Catholic church, many of the youth saw God as a distant father, explains Father Rossi. "Now they have this real relationship with him," he says, "so we're trying to grow that beautiful gift of the Holy Spirit into an appreciation of their faith."
During the school retreat, students experienced their first introduction to small groups, and have since continued meeting on a weekly basis. After attending the 2017 Purpose Driven Church Conference, Father Rossi recognized the value of small groups. Now, rather than being social gatherings for believers, he has helped shape them as intentional meetings with an end goal.
That end goal is to grow in faith, something that Father Rossi sees in the students as they apply the weekly message to their own lives. After introducing a campaign on prayer, one student asked Father Rossi to teach him how to talk to God. In that moment, the priest knew Jesus was working through him to touch these students' lives.
"I'm just here to plant the seeds," he says. "I don't know what these young people will do in the future, but it encourages me every day to know that this next generation is the hope of the church."
To learn how you can start a Purpose Driven Church, visit pdchurch.flywheelstaging.com/start.