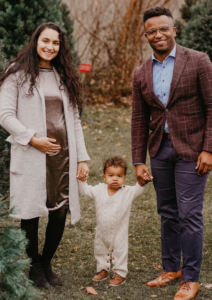 Here we have a midwest boy who attended a diverse and spirit-filled, Bible-believing church; a college-bound star football player who found himself facing possible jail time. 
Pastor Joumeel McLaurine knows that God had his future in his hands because there is no other explanation for how he is where he is today. 
As he lay on the floor praying that he would be spared from jail, he remembers saying, "Lord, I don't know how this is all going to work out, but I just want you to know that I'm going to give everything, the rest of my life, to pursuing you, pursuing heaven, and trying to take people with me." And that was the birthplace of Ascend. 
Joumeel always knew he'd end up in Michigan. When he was 13 years old at a youth retreat in Detroit, he felt the calling. But years later, after turning away from God in college and coming back to him, he was offered a position as the music director at the same church in Detroit where he spent the youth retreat. He eventually became an executive pastor and then launched Ascend Church in 2018. 
The heart of Ascend is based on Psalm 24:3-5 which says, "Who shall ascend into the hill of the Lord? or who shall stand in his holy place? He that hath clean hands, and a pure heart; who hath not lifted up his soul unto vanity, nor sworn deceitfully. He shall receive the blessing from the Lord, and righteousness from the God of his salvation."
Their vision statement was birthed out of Joumeel's prayer as he lay on the ground asking God for help. "'We exist to see ordinary people rise in Christ and live an elevated life.' I use that word "ordinary," because that's the best way I could describe that moment for me," he shares.
Joumeel is so excited about the way God is moving through his church. His heart for his city is evident in the way he is committed to praying for and serving the local community. But of course, growing a church hasn't come without its challenges. He says that discovering the "who" has been his biggest challenge. For someone who loves teams and people so much, finding the right people to be on the team and grow the vision has been an interesting road to navigate. But Joumeel has learned how to have the tough conversations and dig deep to find the people who share the heart and vision for the church. 
"My biggest prayer [is] 'God, just give us the right purpose, the right people, and the right plan.' I say 'people' secondly, because I really do think that outside of understanding what your calling is from God, the people around you are the currency of the future. That's been the biggest challenge, but also one of the most exciting things as well."
Despite the challenges, Ascend Church is growing and reaching out to the community in practical ways. Joumeel is passionate about finding the right ways to share the gospel with this new generation where Christendom isn't primary to the culture as it used to be. But that actually excites him! In his opinion, it's not time to sugar coat our faith. It's time to be direct about what God is offering his people and invite people to share that with us. 
"I actually think it's putting us in more of an environment for a perfect backdrop for the gospel. Because Jesus, the culture that Jesus was a part of, it was so secondary, it was so minimal, it was such a small pond in comparison to the vastness of the Roman Empire and government and culture at the time, that I think it made a perfect backdrop. Because it really made it so that it wasn't as much of a competition as much of it was an infiltration of sorts.

I think it's going to be more so for us about being it, and living it, and actually having fruit, and actually flourishing, and actually having this evidence of God's spirit in our life. Really having this experiential, tangible difference about us that is going to make it so that we don't have to talk as much, they'll just be able to see it."
Follow Joumeel's journey and what Ascend Church is doing on Instagram @ascendchurchmi and @JoumeelMcLaurine