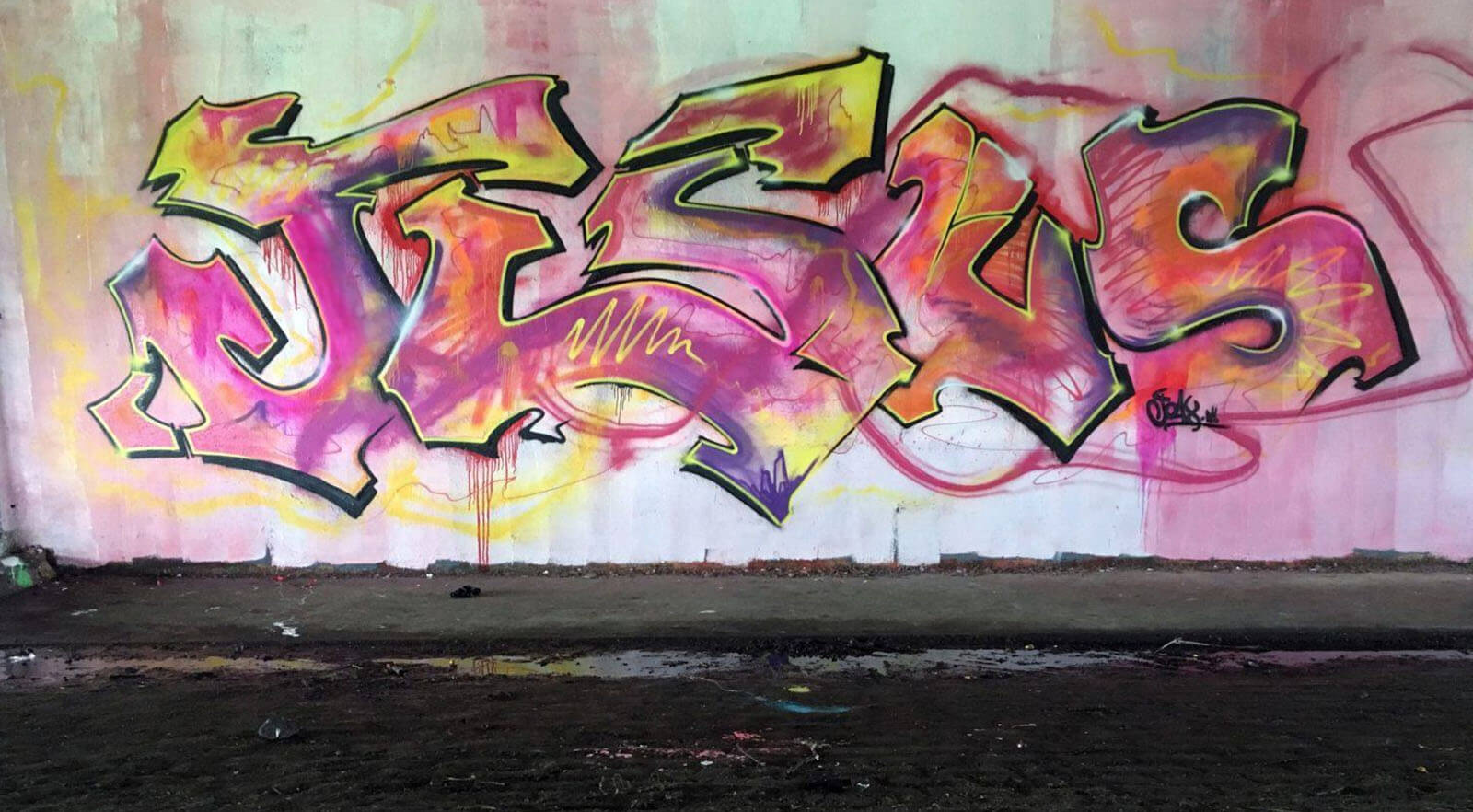 The church and graffiti are two topics that rarely collide, unless you're Cameron and Richie who use their tagging skills to reach the masses through their art. It was 1996 when they teamed up to launch Gospel Graffiti, a crew that literally made their mark as the first Christian graffiti artists in the world.
Today, they take their ministry seriously, and are often commissioned and contracted to spread colors in places where the message matters.
The momentum started years back, when famed faith-based artist, DJ Promote challenged Richie to paint a canvas in 30 minutes. In that moment, he fed off the energy of surrounding artists, spraying shades while beats dropped from the sidelines.
Today, Richie considers himself more of an ideation guy, working as a consultant to dish creative ideas to leaders and organizations like Urban Youth Workers. This outlet, he says, helps fuel other creativity, and tap into the gift God has given him.
But to get where Richie and Cameron are at today, took serious mental hustling and self promotion.
"It takes more than just being good at a craft," says Cameron. "It takes being encompassed by your craft, but I don't think that's for everybody."
This division of passion and profession is distinctly categorized by hobbyists who create for the sake of expression, and artisan who obsess over the craft and will make a living out of it because they are completely immersed. Richie clearly falls into the second category, and credits that commitment to childhood in Compton.
From Asian descent, his art originated from a place of hurt — living in a family that focused on survival. In a home void of toys, he turned to pencil and paper to express his emotions. And because of violence in the streets, he was taught to be creative with what was in front of him. Today, that pain has paid off.
"I'm starting to embrace that more now as an artist," says Richie, "to captivate that experience of being more carefree. I'm tapping into those feelings and being more intentional with the audience that sees my art."
While the audience is clearly watching, both Richie and Cameron are careful to focus on the origin of the craft, vs the motivation in sharing. In an "Instagramificatious" society, it's easy to obsess over posting work for online reactions, rather than for the art itself. Over time, this mindset can easily limit ones connection and love for what they're doing.
Reflecting on their pasts, both Richie and Cameron are glad they entered the scene when they did, during an ear when youth graffitied with Krylon Rustoleum; such a tool weeded out those artists who simply couldn't create with an instrument that dripped with every spray.
"If you were going to graffiti, you did it because you were absolutely in love with the artform," says Richie. "Now our tools are easy to use, and you have so many people doing street art. They might try it out for just a couple years, but then they're over it because they accomplished it so fast. Whereas for us, there was something in the process of struggle that created longevity."
For these two street artists, the longevity was locked the moment they connected with a visual art form that was never meant to reach the level it has today — especially in the church. While graffiti still might not be widely accepted in congregations as an expression of faith, the Gospel Graffiti crew is working hard to bring vibrancy to the colorblind.
The challenge however, is helping seasoned leaders to condone something they don't understand. Unfortunately, by that point, the church is behind culture, rather than leading the pack.
"The church should be setting the trend," says Cameron. "And sometimes you can't wait for the church to come alongside you. Like with Gospel Graffiti, if we would've waited for the church, we would never be as influential as we are today. Sometimes you have to be the trendsetter and let the church catch up."