We are excitedly preparing for Purpose Driven Church 2017: Hope Renewed, June 27-29 here on the Saddleback Church campus in Southern California. Join Pastor Rick Warren and thousands of other church leaders for this inspirational and practical event.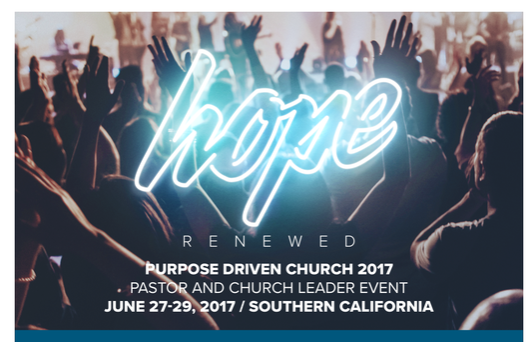 The Purpose Driven conferences powerfully equip leaders with a proven and intentional approach to ministry built around the five purposes for the church. These principles transcend denomination, church size, style, age, or affiliation—and they multiply impact both locally and globally.
Our theme "Hope Renewed" will address the personal renewal and the spiritual renewal we need in our churches to breakthrough plateaus, respond to culture, and reach the next generation. You can also gain practical tools during our conference labs, geared for every area of ministry and every member of your team. Don't miss out!
The Super-Early-Bird Deadline is April 15. Save $100 when you register today and even more if you take advantage of group discounts for teams of more than 4 people. Save $100 or more today.
For more information or to register, visit our events page or PD.Church/PDC2017.